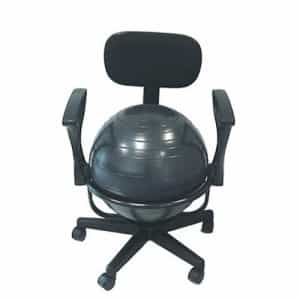 Everyday spent at the office working may bring in money hence a better life; however if care is not taken in the health department, you may end up with poor posture or chronic body pain. Unfortunately, sometimes the time to go to the gym may not be available with so much work to do! Luckily, with the advancement in technology, no more do you have to worry about ending up with an unhealthy body.
No more do you have to ensure long hours of sitting at work with pain at the end of it all with the CanDo 30-1791 Ball Chair. This chair is designed to evenly distribute your weight on pressure points and helps eliminate spine pressure.
The chair comes with an inflatable 55cm exercise ball that is scientifically proven in providing positive results. It also comes with casters which make gliding over surfaces such as carpets or hard surfaces a breeze.
Ratings
Overall Comfort: 4.8/5
Pricing: 4.5/5
Customer Feedback: 4.3/5
Ergonomic Rating: 4.4/5
Overall Score: 4.5/5
Benefits
Light Assembly
Ergonomic with the added advantage of being mobile
Sizes encompass both children and adults
Latex free casters which make gliding over hard surfaces a breeze
Comes with or without arms
The base of the chair comes with Ball therapy accommodation that is securely attached
Comfort
Quite a number of chiropractors recommend the CanDo Ball chair for its comfort and ability to relive back pain for office workers. It is ergonomically designed to help support the lower back and neck as you sit for long periods of time. It doesn't matter if you have a larger frame or not because the chair comes either armless or with arms for your absolute comfort.
Exercise
Thanks to the inflatable ball that comes with the chair, you can exercise as you work. The ball's model can be linked to that of balls found in a number of health centers or gyms if not better. Whenever you can, be sure to try out the stretch exercise or ab workouts on the chair. In short, it makes for a great way to improve your blood flow as you work hence ensuring great results from your work.
Cons
Much as there are numerous benefits attached to the CanDo chair, unfortunately, its armrests could do with a bit of improvement. They could do with a bit more adjustability. The squeaking sounds that come with such model of chairs tend be a nuisance as you work. In addition, you may not appreciate the pump that comes with the chair because it may seem like forever before the ball fills up. To solve this issue however, it is recommended to buy a separate pump.
Conclusion
When all is said and done, the CanDo Ball chair does exactly what it is meant to do. It makes for a healthier chair to have at work; a chair that helps ensure that you get better blood flow hence better work results.

or
Return to Yoga Ball Chair Reviews