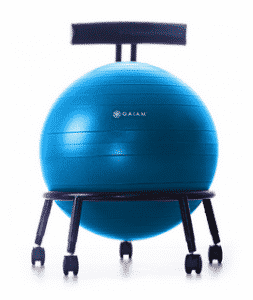 With the Gaiam Custom Fit Adjustable Balance Ball Chair, you get to maintain a good posture and relieve some bad back aches in the process. The chair is multi-purpose in nature in that it you can use it for sitting as well as exercising. For the exercising bit of things, you can make use of the exercise ball that comes with the chair to do some stretch and toning exercises. It helps improve upon your blood circulation and strengthen your back.
Ratings
Overall Comfort: 5/5
Pricing: 4.75/5
Customer Feedback: 5/5
Ergonomic Rating: 5/5
Overall Score: 4.94/5
With the ratings falling at slightly under five stars from the numerous customers that have used this chair, the general consensus is that it is an ideal product to have. Not only is it easy to set up but it is also easy to use.
Benefits and key features
Helps improve your posture and strengthen the back
The anti-burst ball helps boost overall health
The ergonomically designed back is great for relieving join pain
Helps improve blood circulation
Comes with a strengthening and stretching guide in addition to a DVD with workout exercises
Comfort, Cost and Style
The Gaiam Custom Ball Chair is highly comfortable making it ideal for individuals that sit in one place for long periods of time. The chair comes with a cushioned back that makes sitting comfortable. In addition, it comes with adjustable legs that are securely attached to a metal base, complete with castor wheels that are lockable. In terms of colors, the chair comes in four different colors. With respect to the cost, you won't have to spend an arm and a leg to acquire this chair.
Video Review
For more infomration, check out this expert review for the Gaiam Custom Fit Balance Ball Chair below.

or
Return to Yoga Ball Chair Reviews