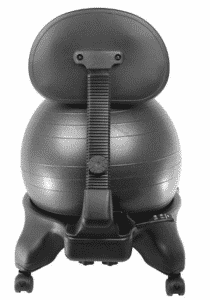 Having to work in one place for extended periods of time may be good for your wallet but it is definitely not good for your body. You may end up with bad posture or body aches if you don't take care of your sitting position while at work. Thankfully, there is furniture available that is geared at your comfort at work while at the same time ensuring that your body remains in good working condition. The ergonomics and therapeutic features of the Sivan Adjustable Back Balance Ball Chair are such that you get high levels of comfort while at the same time maintaining your body posture. You get to do away or minimize muscular disorders and spine pains.
Thanks to the numerous helpful features that come with the chair, it is an ideal addition for your home or office. You get to sit straighter, have support for your lower back and overall improve upon your posture as you work. For ease of movement, the chair does come with a rolling base complete with four rolling wheels, of which two are lockable.
Ratings
Overall Comfort: 4.25/5
Pricing: 4.75/5
Customer Feedback: 4.5/5
Ergonomic Rating: 4.5/5
Overall Score: 4.5/5
Quite a number of customers on Amazon have positively reviewed this product thus confirming its reliability, efficacy and comfort not to mention how easy it is to set up and use.
Benefits:
Strong base with four rolling wheels, of which two are lockable
It can be used for exercises in addition to supporting the back
Adjustable back
Helps relive spine problems and helps enhance physical rehabilitation
Easy to set up and use
Comes with stability ball
Comfort and Ergonomics
This unit is designed to maximize comfort and support for the user's lower back. Thanks to its inflation capabilities, the sitting height can be easily adjusted thus making it useful both at home and in the office.
Exercise
Aside from working from the chair, you can also do some exercises on it. Simply remove the ball that is found at the base of the chair and make use of it for exercising. You can conveniently do your stretching exercise on the ball thus limiting spine disorders, optimizing circulation, correcting posture and reducing stiffness.
Cons
Although the Sivan Adjustable Back Balance Ball Chair does come with a pump, it doesn't quite work like most would wish it to. Inflating the ball tends to take forever! This can be easily solved though by purchasing a separate pump. In addition, those looking for a color other than the black the chair comes in are in for a disappointment.
Conclusion
Ultimately, the Sivan Adjustable Back Balance Ball Chair is great as an exercise tool in addition to being excellent furniture for your office or home. It comes with a number of features and specifications that make it a great chair for physical therapy purposes in addition to providing comfort and the much needed ergonomics. The chair can be utilized for the promotion of blood circulation, lean muscle growth, fat loss and toned muscles.

or
Return to Yoga Ball Chair Reviews